Blacklisted Jurisdictions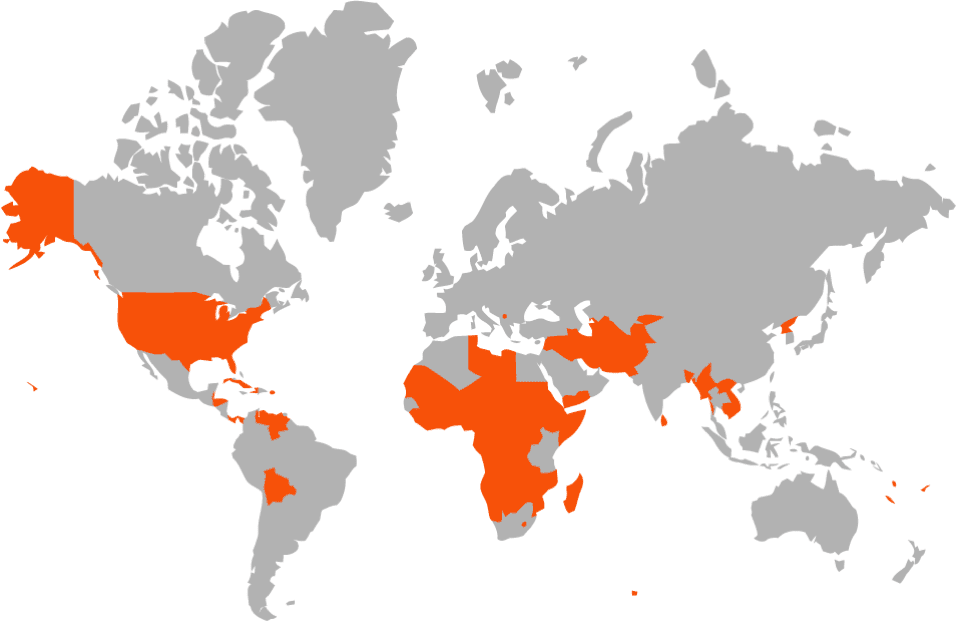 As part of its legal and regulatory obligations, as well as its high-quality level standards, Polydirection will not serve any person, have any kind of business relationships with persons, or process incoming or outgoing transactions related to Prohibited Countries. The list of Prohibited Countries is provided below. This list is fixed by Polydirection unilaterally and is subject to regular change.
AfghanistanAmerican samoa
Angola
Anguilla
Antigua and barbuda
Aruba
Bahamas
Bangladesh
Belize
Benin
Bolivia
Botswana
British indian ocean territory
British virgin islands
Brunei
Burkina faso
Burundi
Cambodia
Cape verde
Caribbean netherlands
Cayman islands
Central african republic
Chad
Christmas island
Cocos (keeling) island
Comoros
Congo
Congo (democratic republic of)
Cook islands
Cuba
Djibouti
Dominica
Dominican republic
EcuadorEquatorial guinea
Eritrea
Ethiopia
Federal republic of somalia
Fiji
French polynesia
French southern territories
Gabon
Gambia
Ghana
Grenada
Guam
Guinea
Guinea bissau
Guyana
Haiti
Honduras
Iran
Iraq
Ivory coast
Jordan
Kiribati
Kosovo
Kyrgyzstan
Laos
Lebanon
Lesotho
Liberia
Libya
Madagascar
Malawi
MaldivesMali
Marshall islands
Mauritania
Mauritius
Mayotte
Micronesia
Montserrat
Mozambique
Myanmar
Namibia
Nauru
New caledonia
Nicaragua
Niger
Nigeria
Niue
Norfolk island
North korea (republic of)
Northern mariana islands
Pakistan
Palestinian territory,occupied
Panama
Pitcairn
Puerto rico
Reunion
Rwanda
S. Georgia & s. Sandwich isl
Saint barthelemy
Saint kitts and nevis
Samoa
Sao tome and principe
SeychellesSierra leone
South sudan
Sri lanka
St pierre et miquelon
St. Helena
St. Vincent and the grenadines
Sudan
Svalbard and jan mayen
Swaziland
Syria
Tajikistan
Timor-leste
Togo
Tokelau island
Tonga
Tunisia
Turkmenistan
Turks & caicos islands
Tuvalu
Uganda
Us minor outlying islands
Us virgin islands
Vanuatu
Vatican city state
Venezuela
Vietnam
Wallis and futuna
Western sahara
Yemen
Zambia
Zimbabwe
Note on United States of America
Polydirection does not treat United States of America as prohibited country, however only transactions to and from United States are allowed. Private and corporate customers from United States are not allowed to open account with Polydirection. In addition, corporate customers having United States residents or citizens as beneficial owners, directors or representatives are also not allowed to open account with Polydirection.
Additional list of blacklisted jurisdictions for Premium Plus package
Republic of Belarus
Bosnia and Herzegovina
Arab Republic of Egypt
Prohibited (High Risk) Activities
Production or trade in any product or activity deemed illegal under host country laws or regulations or international conventions and agreements, including without limitation host country requirements related to environmental, health and safety and labour aspects;
Production or trade in weapons and munitions;
Production or trade in alcoholic beverages (including beer and wine);
Production or trade in tobacco;
Trade in wildlife or wildlife products regulated under CITES;
Production or trade in radioactive materials;
Commercial logging operations or purchase of logging equipment for use in primary tropical moist forest;
Production or trade in pharmaceuticals subject to international phase outs or bans;
Production or trade in pesticides/herbicides subject to international phase outs or bans;
Drift net fishing in the marine environment using nets in excess of 2.5km. in length Production or activities involving harmful or exploitative forms of forced labour/harmful child labour;
Production or trade in ozone depleting substances subject to international phase out;
Production or trade in wood or other forestry products from unmanaged forests;
Production, trade, storage, or transport of significant volumes of hazardous chemicals, or commercial scale usage of hazardous chemicals;
Any business relating to pornography or prostitution;
Quarries, mining, or processing of metal ores or coal;
Giving or receiving gifts that could be interpreted as intending to influence business decisions;
Abusing confidential or material, non-public information;
Trading of Animal Fur, Bones and Ivory;
Diamond trading without Kimberley Certification;
Indecent and Obscene material including child pornography;
Cultural objects like sculptures, statues, antiques, collectors items, archeological pieces especially from Republic of Iraq;
Trading of Fireworks, explosives and Nuclear Weapons;
Drug trafficking including chemicals used to manufacture synthetic drug or drugs;
Vessel security;
Human Body Parts and Pathogens;
Non-licensed Offline Gambling/Betting/Casino/Horse Racing/Bingo/Sports Betting;
Non-licensed Online Casino/Online Poker/Online Gambling/Online Betting/Prize Draws/Gift Cards/Any form of Lottery/Scratch cards;
Bearer shares and bonds;
Trading in Derivatives/Options/Hedging;
Donations/Charities;
Money exchange dealer;
Jewel, Gem, Precious metal dealers;
Cash Pooling Structure;
Non-licensed Forex/Binary Options;
Activities related to cryptocurrency business.
We accept only LP and LLP with clear company structure. It means that account signatory has to be mentioned on Companies House as: member, or Beneficial Owner or Person with Significant Control.
Please be informed that we do not accept any blacklisted country company in LP/LLP structure.